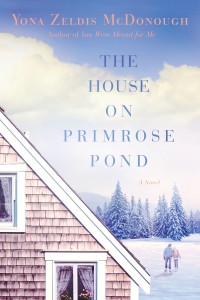 About The House at Primrose Pond

Basic Information

Title: The House at Primrose Pond
Publisher: New American Library
Paperback: High Resolution Cover Image
Publication Date: February 2, 2016
Details: 400 Pages | 5-1/2 x 8-1/4 | ISBN 9780451475381
Plot Synopsis
After suffering a sudden, traumatic loss, historical novelist Susannah Gilmore decides to uproot her life—and the lives of her two children—and leave their beloved Brooklyn for the little town of Eastwood, New Hampshire.
While the trio adjusts to their new surroundings, Susannah is captivated by an unexpected find in her late parents' home: an unsigned love note addressed to her mother, in handwriting that is most definitely not her father's.
Reeling from the thought that she never really knew her mother, Susannah finds mysteries everywhere she looks: in her daughter's friendship with an older neighbor, in a charismatic local man to whom she's powerfully drawn, and in an eighteenth century crime she's researching for her next book. Compelled to dig into her mother's past – and into the tragic death of Ruth Blay, the last woman hanged in New Hampshire — Susannah discovers even more secrets, ones that surpass any fiction she could ever put to paper.
Praise
View selected reviews on publisher website
Additional Press
hippopress.com
seacoastonline.com
New Hampshire Public Radio
Edge Streaming Radio

Historical Information
Although The House on Primrose Pond is set in present-day New Hampshire, Yona Zeldis McDonough's main character is researching and writing about an actual event that happened in the Granite State in 1768. Ruth Blay, an unmarried seamstress and teacher in her early thirties, was accused of murdering her newborn daughter. A five-year-old named Betsey Pettingill had found the dead baby while playing in a barn on a hot summer day. The particulars of what happened next are not recorded, but it is known that the bailiff was called, Ruth was taken to Portsmouth, NH, and she was ultimately convicted of concealing the birth of an illegitimate child. She was hanged for this crime before a large Portsmouth crowd, giving her the very dubious distinction of being the last woman hanged in New Hampshire.
The House on Primrose Pond explores the Ruth Blay story from the perspective of the little girl who unwittingly set the horrible events in motion. Little is known about Betsey Pettingill except she named one of her own daughters Ruth, and she went on record saying that she regretted her role in the incident. These scant bits, however, only hint at what she might have felt: guilt, remorse, horror are all possible responses. In The House on Primrose Pond, Yona Zeldis McDonough examines how Betsey might have reacted.
Author Information
Short Author Bio
Yona Zeldis McDonough is the author of novels such as A Wedding in Great Neck and You Were Meant for Me as well as dozens of books for children. She is the editor of and a contributor to The Barbie Chronicles: A Living Doll Turns Forty, as well as All the Available Light: A Marilyn Monroe Reader. She lives in Park Slope, Brooklyn.
Long Author Bio
Yona Zeldis McDonough is the author of seven novels for adults: The Four Temperaments, In Dahlia's Wake, Breaking the Bank  (which has been optioned for a film), A Wedding in Great Neck, Two of a Kind, You Were Meant for Me, and The House at Primrose Pond. She is also an award-winning children's book author with 26 children's books to her credit. The Doll Shop Downstairs received a starred review from Jewish Book World saying that it "will become a classic." In another starred review Kirkus called the sequel, The Cats in the Doll Shop, "a quiet treasure." The Doll with the Yellow Star won the 2006 Once Upon a World Award presented by the Simon Wiesenthal Center.
 Her most recent book for children, Little Author in the Big Woods: A Biography of Laura Ingalls Wilder, came out from Christy Ottaviano Books/Henry Holt, on September 16, 2014 and her latest in the popular Who Was …? series, Who Was Sojourner Truth?, is forthcoming from Grosset & Dunlap. She has recently completed The Bicycle Spy, a chapter book set in France during World War II, which will be out from Scholastic in September 2016.
For over a dozen years, Yona has been the fiction editor at Lilith magazine. She works independently to help aspiring writers polish their manuscripts.
Sample Interview Questions
You are from New York; why did you choose New Hampshire as your setting?
How much time have you spent in the Granite State?
Why did you decide to intertwine present and past rather than writing historical fiction?
What captured your interest in the Ruth Blay story?
Tell us about Betsey Pettingill's role in Ruth's trial and execution.
What research did you do in Ruth Blay and 18th century New Hampshire?
Are the town of Eastwood and Primrose Pond modeled on actual places in New Hampshire?
You've written twenty-six books for children and seven for adults; is it difficult to move back and forth between children's books and adult fiction?
How do you find your inspiration?
Will you continue working in an historical vein?
Media/Press Contacts
General:
Ymcdonough606@gmail.com
In New Hampshire:
Wendy Ducharme
603-483-0583
wendy@ducharmewriting.com
Upcoming Appearances to Promote The House on Primrose Pond
Book Court, Brooklyn NY
Newburyport Literary Festival, Newburyport, MA
Dover Public Library, Dover, NH
Chesley Memorial Library, Northwood, NH
Bayswater Books, Center Harbor, NH
Gibson's Book Store, Concord, NH
NOTE:  On page 8, a character mentions that the state flower of New Hampshire is lavender, which is incorrect.  It should have read purple lilac, but this unfortunate error managed to slip by undetected until after the book had been printed.  Subsequent editions will be amended.