Featured Titles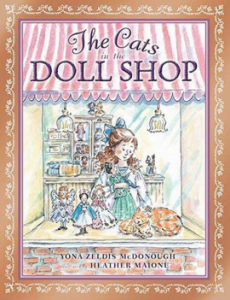 THE CATS IN THE DOLL SHOP
Young readers joined nine-year-old Anna as she helped turn her family's doll repair shop into a doll-making shop. Now, Anna finds herself in an all-new adventure in The Cats in the Doll Shop. In this "timeless treasure" (Kirkus), World War I is still raging, and Anna's cousin Tania leaves Russia to live with her family in New York City. Anna is so excited for Tania to arrive and be her new best friend. When her cousin finally moves in, Anna quickly discovers that Tania doesn't respond to her friendly gestures and her sisters don't seem to like her at all. Luckily, Anna finds a creative way to use her love of dolls and cats to bring everyone together. Here is a gentle story rich with history, family, and love.
CLICK HERE TO READ AN EXCERPT

BUY THE BOOK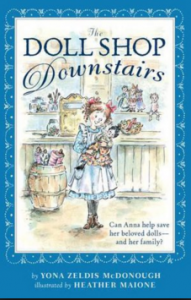 THE DOLL SHOP DOWNSTAIRS
Nine year old Anna and her sisters like helping out in their parents' doll repair shop, because once their chores are done, the fun can begin. The girls are allowed to play carefully with the dolls until they're fixed and ready to be returned to their owners. But when World War I begins, and an embargo on German-made goods threatens to put the shop out of business, it's up to Anna to come up with an idea to save the day.
The Doll Shop Downstairs was named one of the 2010 Cooperative Children's Book Choices and a Sydney Taylor Notable Book. It was also selected for the 2012 New York State Reading Association (NYSRA) Charlotte Award Master List's, The New York Public Library's 100 Titles for Reading and Sharing, and one of Kirkus Best Children's Books.
"Mix one part Rumer Godden's The Story of Holly and Ivy and many parts Sydney Taylor's All-of-a-Kind Family and you create a standout family-and-doll story. "
—Kirkus, STARRED Review
McDonough gives us a wholly original story…. Dolls and doll parts, a resourceful Mama and Papa and an appealing heroine and her sisters are all deftly drawn…The Doll Shop Downstairs will become a classic.
—Jewish Book World, STARRED Review
THE DOLL WITH THE YELLOW STAR
Winner, Once Upon a World Award, Simon Wiesenthal Center
Eight-year-old Claudine, who lives with her parents in Nazi-occupied France, is upset by the yellow stars that she and the other members of her family are required to wear. She sews a star on the red wool cape of her treasured doll, Violette, but she affixes it to the inside of the garment so she can decide whether to let it show. When Claudine is sent to live with relatives in America, she loses both her doll and her family. Writing a Holocaust novel for young children is a tricky business, but McDonough succeeds in conveying the realities of war without terrorizing her audience. Violette is a symbol of innocence lost, but like Claudine's father, the doll is miraculously found and restored by the end of the story…. —Booklist
BUY THE BOOK
THE DOLLHOUSE MAGIC
Enthralled by the dollhouse in Miss Whitcomb's parlor window, sisters Lila and Jane are nevertheless uneasy when the elderly lady notices their interest and speaks to them. However, on a common interest, a friendship is formed that ends too soon with Miss Whitcomb's sudden death. In her will, she leaves her beloved dollhouse to Lila and Jane. The writing has an innocent charm that suits the story well. Set in the 1930s, this tale doesn't flinch from the hardships of the Great Depression, nor does it sentimentalize them. Diana Palmisciano's lively black-and-white artwork appears throughout the book, highlighting the warmth and good humor of the text. An appealing beginning chapter book, particularly for doll fans. —Booklist
BUY THE BOOK