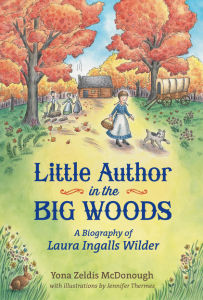 Little Author in the Big Woods
Many girls in elementary and middle school fall in love with the Little House books by Laura Ingalls Wilder. What they don't always realize is that Wilder's books are largely autobiographical, and highlight the family and friends she loved so well.
This middle-grade biography describes even more of the details of Laura's real life as a young pioneer homesteading with her family. Complete with charming illustrations, the narrative points out the differences between the fictional series as well as the many similarities. It's a fascinating story of a much­ celebrated writer.
REVIEWS:
This condensation of the long, peripatetic life of Laura Ingalls Wilder will intrigue fans of the Little House series…there is a noteworthy emphasis on literacy—especially for girls—and on the values of three generations of "strong, smart women." Also, the biography extends Wilder's life far beyond the chronological boundaries of her books and into her writing career, relationship with daughter Rose and final years. The illustrations are lovely pencil drawings that pay homage to Garth Williams' work while maintaining originality.
-Kirkus
McDonough's slender, restrained biography offers answers to readers' questions about which parts of her fiction are "true," clarifying the differences between the stories and Wilder's life…Thermes's playful, Lois Lenski–like pencil illustrations add…spirit and character, evoking Helen Sewell's original illustrations of Wilder's books…Other enhancements are McDonough's thoughtful discussion of the controversy about the role Wilder's daughter Rose played in the creation and publication of her mother's books, and extensive back matter, which goes beyond the expected glossary and book lists to include recipes, directions for playing period games, and instructions for making a corn-husk doll.
-Publisher's Weekly
This biography draws parallels between Wilder's life and writing, featuring both the hardships and joys of her experiences as a pioneer in the late 1800s and early 1900s. The narrative is simple and straightforward, and the illustrations are innocent and cozy, calling to mind the original illustrations in the "Little House" books themselves… Overall, "Little House" fans will find a lot to love here, including supplements such as recipes and craft ideas from Wilder's life. Those who are less familiar with the series will find themselves well introduced to its timeless stories and to the independent, adventurous woman who created them.
– From School Library Journal
LOUISA: The Life of Louisa May Alcott
Illus. by Bethanne Andersen
A JUNIOR LIBRARY GUILD SELECTION for SPRING 2009|
Finalist, Texas Bluebonnet Award
Click here to hear the author read this book aloud.
This picture-book look at Louisa May Alcott gently traces her life from a happy, humble childhood to nursing soldiers in the Civil War to her later writing successes. Louisa mostly grew up in Massachusetts, in the company of her three sisters. The young Alcott girls spent Saturday nights in riotous pillow fights, acted out plays in homemade costumes and kept journals to record their thoughts—a pastime that would prove quite fruitful for Louisa. McDonough, appropriately for the audience, places the development of Louisa's character over literary exegesis, and her words are harmoniously both accessible and expressive. Andersen's swashes of gouache and pastels color the lush green fields and warm orange background that glows behind the text. Most intriguing, however, are the end notes, which include two early poems by Alcott and a traditional dessert recipe for New England Apple Slump. While too dense for the littlest of women (and men), middle-graders will be charmed by this first look at one of America's most beloved authors. (Picture book/biography. 8-12)
—Kirkus
BUY THE BOOK
The Who Was…? Series
The highly informative yet easy-to-read Who Was…? biography series from Grosset & Dunlap now has boasts more than 100 titles and I'm proud to be associated with these kid-friendly and wildly popular books.  I've written the titles below, along with one in the new, spin-off What Was…? series as well.
Coming soon:  Who Was Sojourner Truth?